---
Dien Bien Phu (13 oct 15)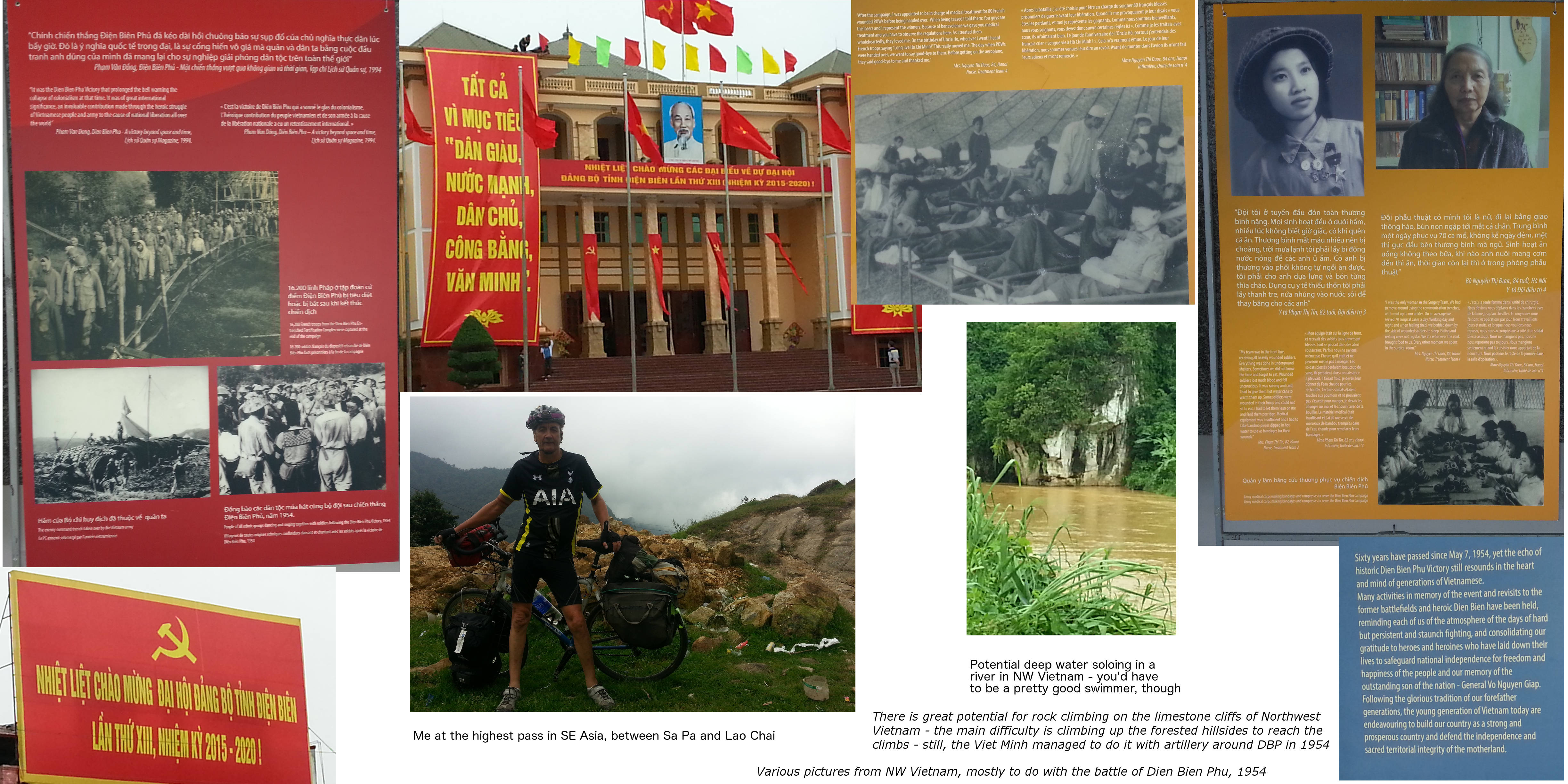 It is 200 Km from Lai Chau to Dien Bien Phu. I did it in three days. It was pleasant to find Lai Chau to Muong Lay was almost all downhill. When I arrived, I found a nice family selling sausages, grilled meat and beer. They directed me to the big hotel, the Duc Truong. Apart from the Eiffel Tower copy next door with loudspeakers blasting out patriotic music, the service was terrible, and the internet didn't work in the room.
Next day, after 50 Km, mostly uphill, I decided to stop in a small town called Muong Cha, and the main hotel was the Thai Binh. Their wifi didn't work at all. When the next morning it started raining I wished I'd tried to make it all the way to Dien Bien Phu the day before. If I'd tried to ride in the rain I experienced in Lai Chau, I would have got hypothermia on the descents. By the way, it's cloudy, and doesn't get much above 20º. I've seen women in fur coats.
However, the rain was light, and I finally got to Dien Bien Phu. I stayed at the Nha Nghi Binh Long 2 just off Vo Nguyen Giap just north of the Victory Memorial. I visited the museum, which is in construction, and the Vietnamese war cemetery. I also started taking pictures of a large building with a picture of Ho Chi Minh on it, but a policeman stopped me - perhaps it's a military outpost.
Here's a link to another biker/blogger who visited Dien Bien Phu.
In the Wikipedia article on the battle of Dien Bien Phu, it says, of mutinying Vietnamese troops,
The Viet Minh lacked advanced medical care, with one stating that "Nothing strikes at combat morale like the knowledge that if wounded, the soldier will go uncared for"
That's not what it says in the museum.
---
Back
| | | |
| --- | --- | --- |
| Portland | | London |