---
Mai Chau to Quan Hoa (21 oct 15)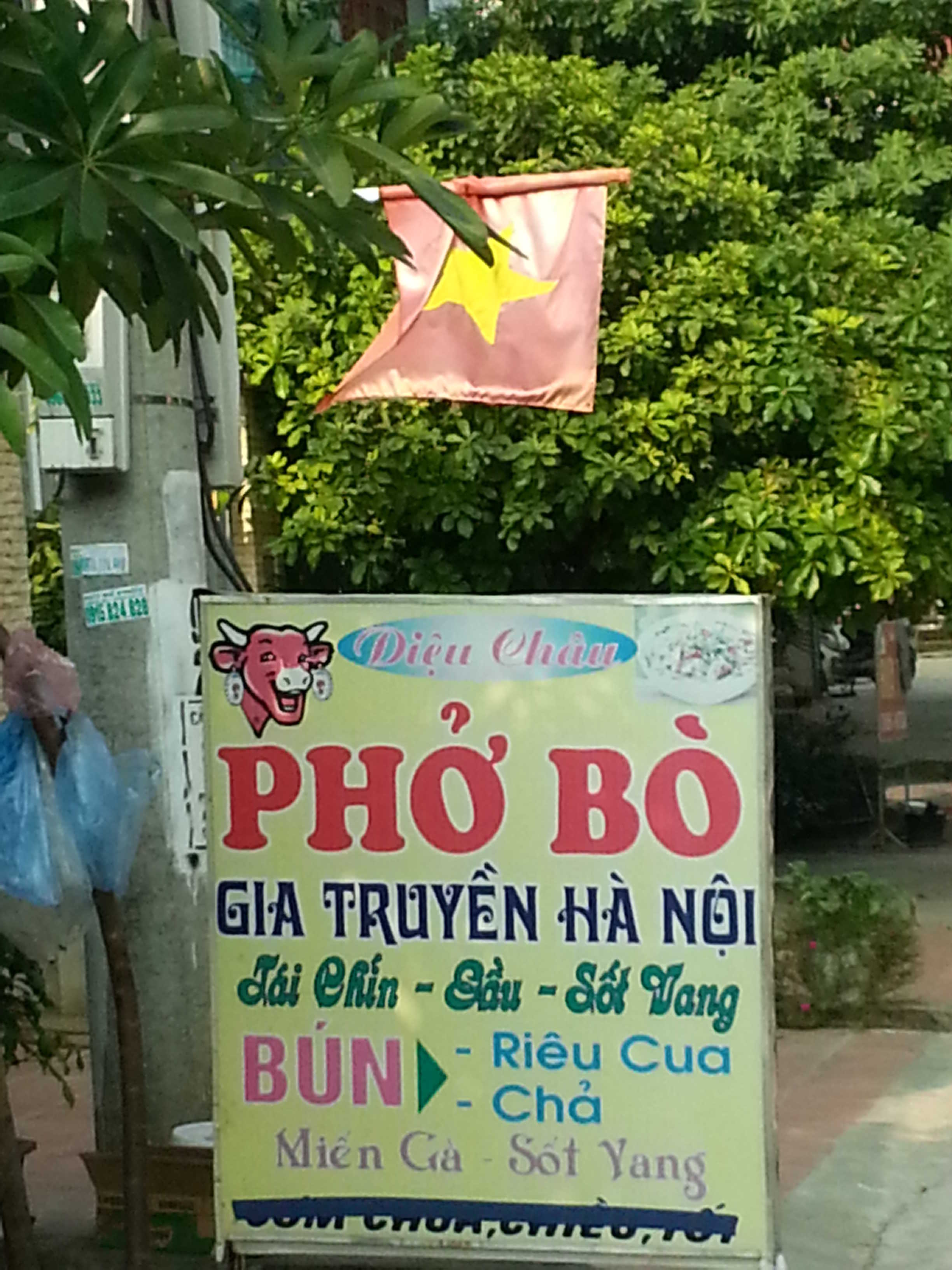 I realized my hand-drawn map was all over the map. I was in Moc Chau, not Mai Chau. It was another 60 Km downhill to Mai Chau. However, that was enough for a day, as I wasn't over the cold I'd somehow gotten between Son La and Moc Chau.
Just before I arrived in Mai Chau, I saw the road going uphill - a fearsome site, unless you're Lance Armstrong. However, that was the left fork to the Hanoi road - I took the right fork and carried on downhill on QL15 to Mai Chau. I found another windowless room guesthouse called Anh, but skipped it and found another really nice one called Linh Hue, for US $7½, after avoiding a guy who tried to persuade me to stay at the "Eco Lodge". Yuck.
Now I'm on the western road south I thought would be "remote". It's not. There are Western tourists in this town, who look like they are staying at the Eco Lodge and going on treks to see cute ethnic people.
I'm avoiding them.
See the picture - the local phó bo merchants have adapted La Vache Qui Rit sign. Their soup is exactly the same as all the other beef noodle soup in Vietnam. There are alternatives here in Mai Chau, but I'm still a bit under the weather, so a bit of phó bo was enough before turning in for an early night.
Phó bo was all I could find for breakfast too. I headed south on QL15A. It soon turned into a construction site. My rear brake got so clogged it didn't work any more. Luckily, petrol stations in Vietnam often have high-power hoses, so I made use of one at Quan Hóa, got rid of all the mud, and put some oil on my bike and fixed the brake. The guy didn't even charge me.
Though I'd only done 42 Km that day, I stayed in Quan Hóa, at Nha Nghi Hoi Xuan, next to the petrol station, opposite the market. It took me a while to find anywhere that had beer, in spite of the ubiquitous "Bia Hoi" signs. I found a place on the opposite side of the petrol station. I also got some roast duck and fried egg rolls from the market. Everything I needed was within 100 metres.
Rather than riding uphill through any more construction sites, I've decided to head for the coast. After about another 20 Km south, I'll head for Thanh Hoa on either QL45 or QL47, and continue south to Đồng Hới, in order to visit the world's biggest caves in Phong Nha Ke Bang National Park.
---
Back
| | | |
| --- | --- | --- |
| Portland | | London |