---
Missoula-Idaho Falls via two 7000 ft passes and several thunderstorms (26 apr 12)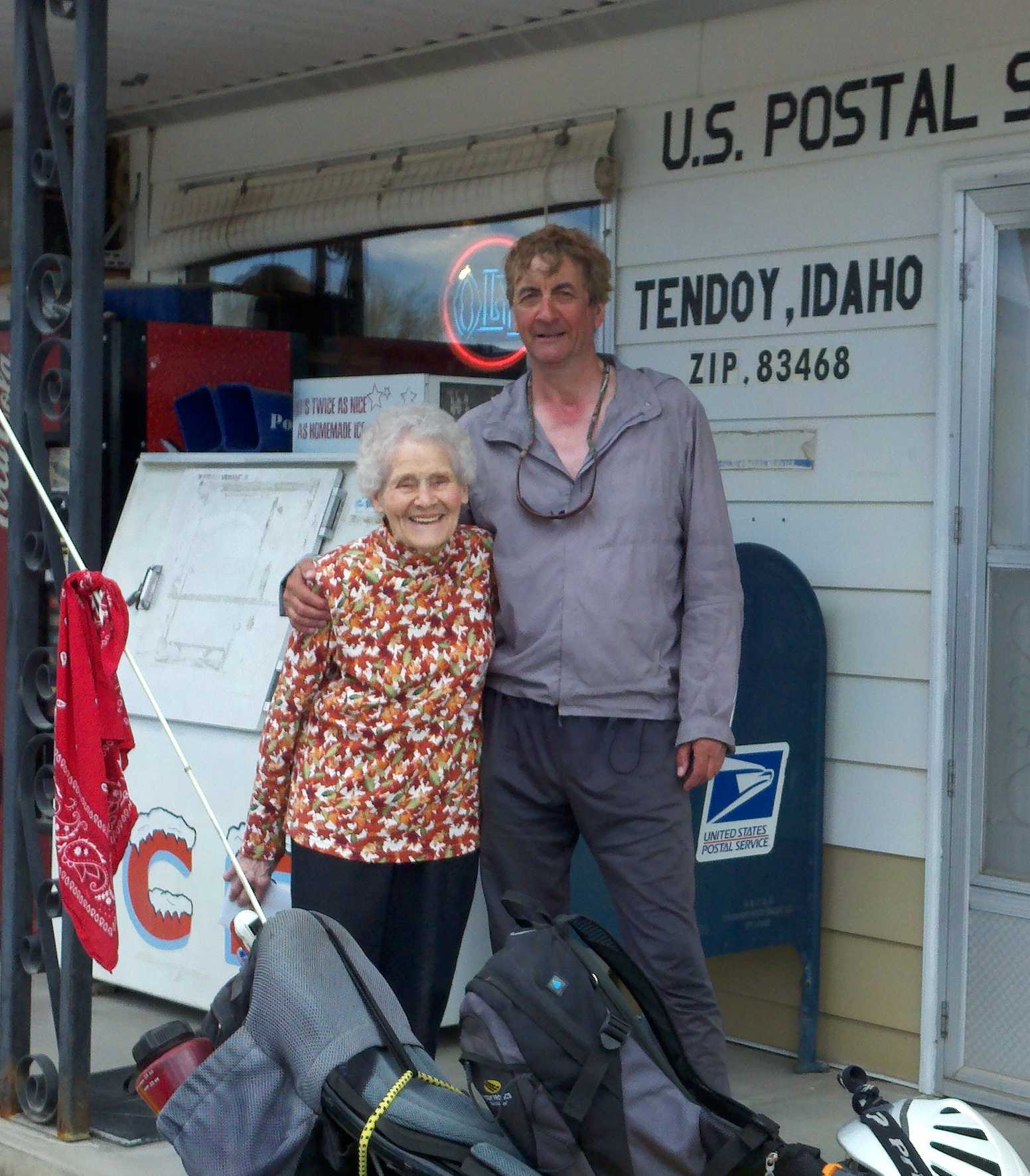 This lady runs the post office in Tendoy ID.
Sacagawea, Lewis & Clark's interpreter/guide, also came from this area.
In Oregon, anything which isn't named after the Oregon Trail is named after Lewis and/or Clark. Unlike most of Oregon, the route from Missoula MT to Salmon ID, following highways 93 and 28, actually coincides with Lewis & Clark's adventures.
For a politically-correct description of their 1804-1806 expedition across North America, see http://en.wikipedia.org/wiki/Lewis_and_Clark_Expedition.
On previous trips on my recumbent bike (HP Velotechnik Street Machine) I complained about the lack of arm exercise. I noticed it, since I was on my way to Joshua Tree CA to do rock climbing.
Unlike on a normal bike, your hands hang by your side, so you end up with weak arms and strong legs. Well, I found the solution - go uphill. Then, you pull hard on the handlebars pushing your legs in front of you.
Also, additionally, moreover and furthermore, if you ride along two-lane highways with big trucks traveling in both directions and a two-nanometer wide shoulder to the left of the white line, with a precipitous drop into a raging torrent, you tend to hold onto those handlebars. This exercises your wrists.
In Darby MT, I came across the guy who builds Lightfoot recumbents. I stayed at the "Angler's Roost" campsite by the Bitterroot river. I then headed up to the first of the 7,000 ft passes - Lost Trail pass. It's not steep, but I was not in shape. Toward the end, I was stopping at every milepost. Then several times per milepost.
It was with joy that I saw milepost one appear after milepost three when I was expecting milepost two. I'd managed to average two miles per hour - and ascended at least ten feet! I got to the top. Now it went from being too hot to being too cold. Wore all my clothes for the descent, and got into the National Forest just before dark. Water from the river, a quick meal, then the land of nod. You sleep really well when you're exhausted, I've discovered.
Salmon ID has a nice campsite by the river just behind the first gas station in town coming in from the north on 93. I did my laundry, had a shower and drank some beer.
The next 7,000 foot pass should have been easier, because it is much less steep. I was happy to find I was at 6,000 feet at Leadore, and stayed there in the rodeo grounds. The pass is actually a small hillock on a vast plateau.
Both the Bitterroot and Salmon rivers have leaping salmon and diving eagles and ospreys. The whole route, until you get to the plains of Idaho north of Idaho Falls, is the America of the postcards and cowboy movies. When I stopped in at Lone Pine ID, the guy in the store had 'Bonanza' on. The definition of wholesome family entertainment. I mentioned that 'Bonanza' had given me my impression of the USA as a kid, and this area conforms to that impression.
Just south of the pass, still at 7,000 feet, is a large swampy area not unlike the Scottish highlands. There is a sign in the middle of this area saying 'Gilmore township - lots for sale - $3,500'. It's fifty miles to the nearest real grocery store! There's a poor but expensive one in Mud Lake, and an even poorer one in Leadore. And you can't get pesto for love nor money!
A huge thunderstorm gathered over the Bitterroot mountains. I almost made it to Lone Pine before it struck. But I had to put up my tent by the side of the road in a hurry and stay in it for half an hour being pelted with rain and hailstorms and nature's majestic blah-blah-blah. When I got out of it, a couple in a motorhome happened by and gave me some water. They also prayed for me.
The prayers worked.
I found later that when I camped in the city park in Mud Lake, the storm in which I cooked and put up my tent, was mentioned in an official weather warning - for people driving cars.
I am now in a motel in Idaho Falls, pigging out. The receptionist told me where the fitness room is. I laughed.
---
Back
| | | |
| --- | --- | --- |
| Portland | | London |