---
Nepal (17 may 17...29 may 17)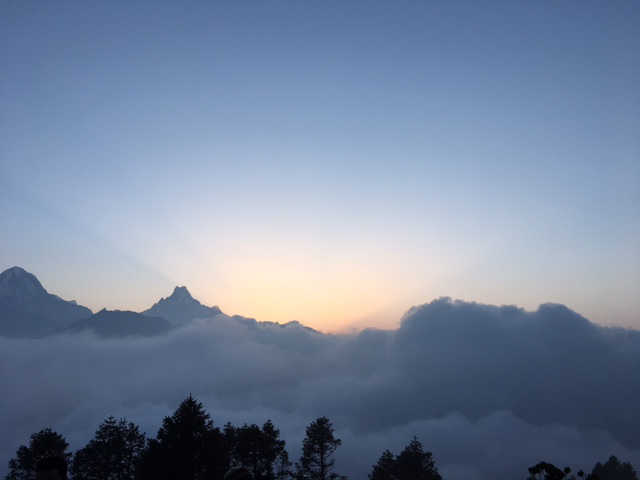 So far I've ridden my bike from Kathmandu to Pokhara, done the four-day Poon Hill trek, to see Annapurna at sunrise, thence to Lumbini, birthplace of Buddha, ridden to Dhunche from Kathmandu (up 600m, down 1100m, up 700m, up 700m) and done the Langtang trek to earthquake-destroyed Langtang village, and rode back (down 1400m, up 1100m, down 600m). Now I'm in Bhaktapur. It's an interesting ancient city, but I'm only here by mistake. I was trying to get to Nagar Kot, from which you can see Everest on a clear day, but the bus stopped here.
A taxi driver said there is no bus to Nagar Kot - you have to get a taxi. Naturally, I said "bullshit" and "you're a liar!", because all over the world, taxi drivers say this when it isn't true. On this occasion, though, it was true - they are having an election, and half the buses are canceled. I'll go tomorrow instead. Was I embarassed by this mistake? Not in the slightest.
Nagar Kot is surprisingly cheap considering it's a popular destination. It's a hill overlooking gorgeous terraced hillsides. I saw Everest this morning (May 19) but I arrived too late to see the sunrise. Tomorrow I'll start walking from the hotel at 03:50.
Turns out it wasn't Everest. So I bicycled to Charikot (600m climb, 1200m descent, 1100m climb to 2900m - the highest I've been on a bike). Then got the bus to Jiri, one day hike to Ratna Jyoti, stayed in a primitive hotel, tried another one day hike to Pikey Peak from which you can see Everest on a clear day, but several things went wrong. First, I ran into the prizest wanker I've ever met pretending to be a guide. He was worse than the wankers in Pakistan who ask "do you want to climb Kee-2?" - they are at least amusing - he was boring as fuck and led me on a three-hour wild goose chase. Anyway, I eventually got rid of him and started hiking up toward Pikey Peak. But I lost the trail, and realised the weather was not going to allow me to see anything to the north. So I turned round, went back over the roaring river, and started climbing back to Ratna Jyoti.
This site kimkim.com recommends the Shobha Lodge in Bhandar, and half the inhabitants know exactly where it is, and half have no idea. So you follow the instructions of the first group, and get lost. I gave up looking for this lodge for the third time. Getting back to Ratna Jyoti from Bhandar is straightforward - you just follow the winding road. But I decided to take a shortcut, walking straight uphill. Despite thinking I should be well acclimatised by now, I got the worst case of "mild altitude sickness" yet. Your leg muscles are using extra oxygen. Your brain says "no - I need it!", forcing you to stop walking and breath heavily while your heart races, getting those red blood cells to your brain. It started raining. I ended up crawling up the hill, and actually said "help me" to a young girl. Being a Himalayan, she couldn't imagine what was wrong with me, anyway, long story short, I gave her brother $10 to guide me back to Ratna Jyoti. This poor peasant who lives in a shack tried to say no, but I insisted. So I met the worst and best of Nepalese this day.
Next day, I hiked with a group of Nepalis over the hills for hours on a muddy road to a random location in the middle of nowhere where there was a bus. I was its first passenger. It was going to Kathmandu, but I was only going back to Charikot, where I had left my bike in the Hotel Kuber. It broke down three times, and the conductors somehow fixed it by getting petrol out of the tank, and pouring it straight into the engine (Cummins 24-valve diesel, located next to the driver's seat). Three times it got stuck in the mud, and the men all had to get out and throw rocks underneath the wheels.
The women are incredibly tough. What to me is a hard hike in trekking boots is to them a stroll to the bus stop in sandals. Whereas I get covered in dirt, they keep their bright red and purple outfits in perfect condition. I've seen middle-aged ladies carrying rocks and bags of cement using straps around their foreheads - without getting dirt on their saris.
The whole country is being rebuilt after the earthquake of 2015.
This region of Nepal (Gaurishankar) is well-served with roaring torrents and hydroelectric power stations, but the electricity is off most of the time. The government sells all the power to India.
---
Back
| | | |
| --- | --- | --- |
| Portland | | London |