---
One of those days when everything goes wrong... (30 sep 15)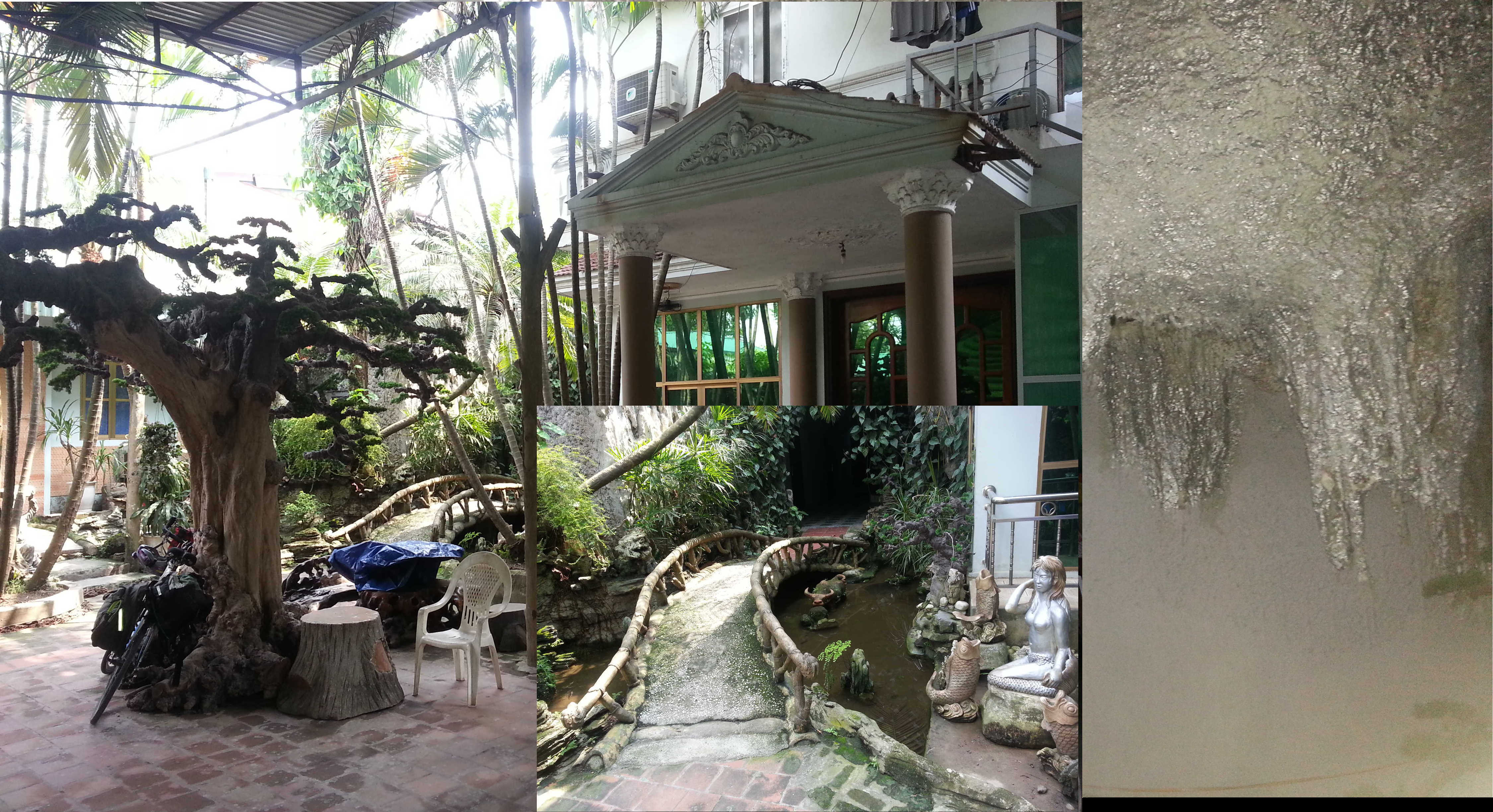 ...except in Vietnam, it's likely to get better quickly.
First, I set off in the wrong direction from Vinh Phuc. Don't ask me how. I could have sworn the hotel was on the right (north) side of the road when I stopped. However, after twenty Km riding, I realized I was heading east. I turned around, and two hours later, got back to where I was last night.
I continued, getting tired from the growing heat (it goes up to about 40° in the afternoon). In quick succession, the two front panniers developed problems - one lost one of its top fastenings, the other the hook which attaches to the bottom of the pannier rack. I had plenty of spare nuts and bolts, but had omitted to bring a spanner or wrench which fits the nuts I have. I improvized with bungy cords and plastic fastener things.
I found Viet Tri after a southward turn and several roundabouts. I was about to ask in a little restaurant "where is a nhà nghỉ (hotel)?" when I noticed there is one next door. (In the phrasebooks, hotel is "khách sạn", but in reality, it's "nhà nghỉ"). It's called Duy Phuong 2. It's on Dai Lo Hung Vuong in Viet Tri. It's a bit of a boutique hotel with nice rooms and a courtyard - all for 170,000 dong (about US $8.50). The picture is of their lovely courtyard, which includes bonsai trees and artificial stalactites, and a fish pond full of catfish, one over 1 Kg.
One of the owners speaks fluent English, went out and bought some beer for me, and drew me a map of the way to a supermarket, the "Big C". Before entering the store, they seal your own bag in a plastic bag, so you can't shoplift. Like I would be dumb enough to steal from a shop in Vietnam.
It's funny how I develop longings for Western foods I don't eat in Western countries, like pâté. I bought a lot of fatty, salty and sweet luxury items, all of which I can eat at once. Bike touring is good for the appetite.
I find I'm stopping earlier and earlier. I set off at 06:30 but was in my hotel room by 12:30. I won't make it to Sa Pa by Saturday at this rate. Tottenham's game's not 'til Sunday anyway, and I can probably watch it in some other town.
---
Back
| | | |
| --- | --- | --- |
| Portland | | London |